Learn to Hit Like the Pros
Related:
Updates:
2/26/2013 Removed references to 'arm bar' in coil phase
11/30/2012 warning about possible 'stand on balls of feet' myth (will put together something on this later)
9/12/2011 clarify simultaneous events in 'Swing to Hip' phase
6/30/2011 added 'secret' stride drill in the 'Weight Shift' phase
4/20/2011 added front hip rotation - myth exposed in 'Swing to Hip' phase
2/15/2011 added a 2002 SetPro lunging tip in the 'Weight Shift' phase
2/9/11 added stride timing points in the 'Weight Shift' phase
2/1/11 separated swing forward phase into 'Swing to Hip' and 'Hip to Contact'
1/25/11 added 'destructive cues'
3/9/10 added Youth section, "cues to use", and various caveats
Anyone Can Learn the Correct Swing Technique
Everyone has heard this one:
That kid has a natural swing. You can't teach that.
The "natural swing" is just perfect technique. So, of course it can be taught.
Hitting Myths
Mike Epstein says "Hitters are born with the natural swing; coaches take it away"
What most coaches are teaching and what the great hitters have actually been doing for over 100 years is something completely different.
When you watch a hitter take a swing, everything is moving so fast that you don't know exactly the mechanics of what's going on, but you may intuitively know a good swing when you see it.
When a pitcher lets go of a ball at their head, the ball usually comes in at a 10 degree downward angle. The best way to hit this ball is to use a 10 degree uppercut swing path with the bat.
Most MLB hitters use an uppercut swing path. (just as Ted Williams described in his book in 1971)
Most coaches and instructors give cues that promote a downward bat path.
Hitting myths are created and promoted everywhere you look.
Everyone hears this craziness from MLB announcers:
He got good extension on that one.
These posters lead most people to mistakenly think your arms should be extended in order to hit a baseball.
No MLB player uses this swing path, or hits the top of the ball, and most don't extend their arms like this at contact.
Rotational Hitting Techniques
The major league swing is generally referred to as "rotational" hitting.
We will be focusing on the
common elements
of how most major leaguers actually swing. Some instructors may say this is using a "cookie cutter" approach to hitting. We are only discussing common elements easily spotted in MLB player's swings - and leave stance choice, stride choice, after-contact moves, etc. up to each individual player.
Of course, we are not saying you will become a MLB hitter when you use these techniques. We will explain the basic techniques and help you to avoid non-productive techniques.
We will try our best to not use any technical jargon, baseball buzzwords, or obscure medical references (I am no doctor and I do not play one on the Internet).
Toe Touch Through Ball Contact
Major League hitters have a unique stance, but most have roughly the same swing from toe touch to ball contact. So, let's explore the common elements of the swing.
Here is Chipper Jones at toe touch and at ball contact. Chipper is using basically the same swing (from toe touch to contact) as most major leaguers.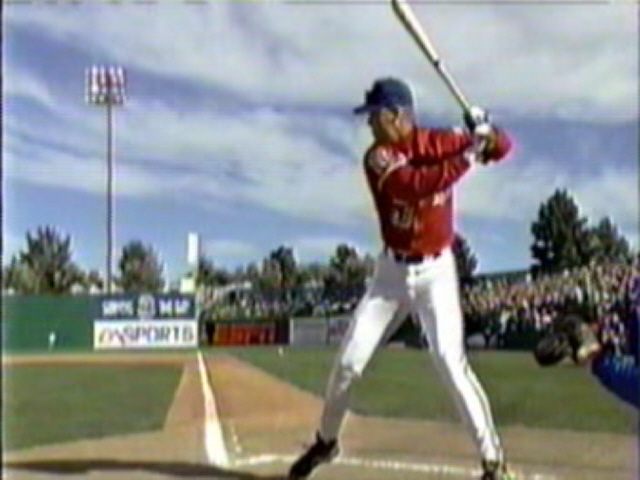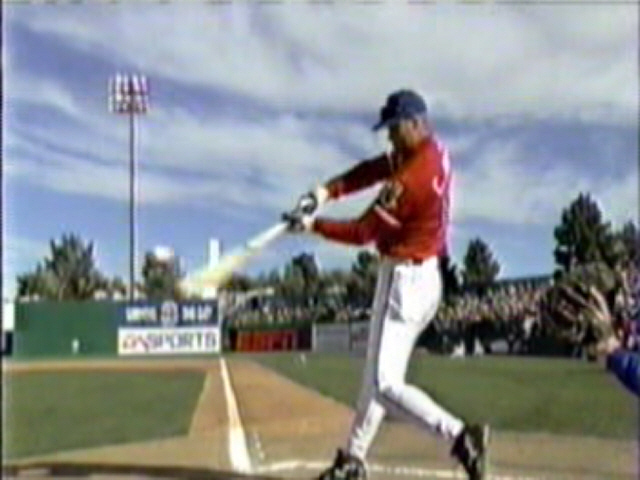 The Swing in Three Stages
We will explore the 3 phases of a swing:
the Stance
the Coil (aka weight shift and/or stride)
the Swing Forward
These phases are easy to review and to practice as separate units.
1. Stance ('mostly' personal style)
You can use your unique flair here, but generally you must follow these basic rules:
Stand on the balls of your feet [this may be a myth, will update] flat-footed on your back foot??, knees bent
Back straight but bent at the hip
Hands near your shoulder or ear, but not too high
Hips even with the pitcher (some players try unsuccessfully to use open hips in their stance)
Back elbow can be "up" or down at this point, although I don't recommend above your shoulder in the stance (however it must be up at the end of the coil phase, before you begin to swing forward.)
Here are a few examples of unique styles or stances:
Craig Counsel

Arms reaching for the sky

Moises Alou

Knee knocker

Julio Franco

Bat over his head
Here are some "musts" during the stance: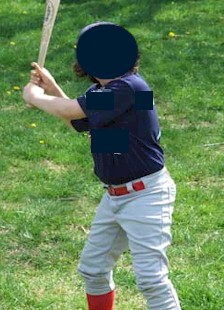 Upside down
Shoulders - your shoulders should not be "upside down" where the back shoulder is down and the front shoulder is up
One hand must have a loose grip on the bat (usually the top hand is loose)
Cues to use:
loose top hand
Bad cues:
line up your
door knocking knuckles
2. Coil (aka Stride, Load, Weight Shift)
Shift Your Weight from Back to Front
Babe Ruth gave the same advice back in the 1920s. So, this is nothing new.
Hitters accomplish this weight shift via one of 3 methods:
Stride via falling/pushing forward with your torso (preferred). Front leg underbody and rear leg behind you. Pick up your front leg.
Stride via back leg drive (not recommended). Balance on your back leg and drive forward.
No stride with a leg kick (fall forward). Pick up your front knee and fall down.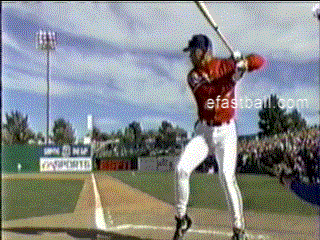 Chipper Jones Coil Move
Pick one of the three methods, then do the following as you shift your weight forward:
Take a slight inward turn (coil) as you move forward.

Hands go back to a spot 'near' the shoulder
- don't take the hands too far in front of, or behind, the shoulder
- should be able to touch your shoulder with your extended top thumb
Back elbow goes "up" and back.
- "Up" means even with the shoulder or slightly lower (see picture of Chipper below)
- Why up?
Lead (front) armpit is somewhat tight against the body
- should be able to fit a fist between your front elbow and your body
Hips and shoulders turn in slightly.

Even/closed Your hips MUST end up even (or slightly closed) with the pitcher (not open)
Balance Your hips must be between your feet. Not too far forward (called lunging) and not on your back foot
- at toe touch your head should be roughly centered between your feet
Lunging "Its not enough just to stride. You have to catch your weight on the stride foot [think torso] ... drifting suggests you are [just] putting your stride foot out but with your weight on the back foot. Some say weight goes back then to middle. If you are finding the middle as you come forward and your swing starts, your hips drift (per MajorDan SetPro.com in 2002).
'Secret' stride drill Use ordinary bathroom scales to learn how to stride your weight.
When to begin the stride?
Begin your stride on every pitch
, not just strikes. Your front foot must be down roughly halfway before the ball reaches the plate, so you have time to complete the swing forward phase.
Toe Touch (aka Launch Position)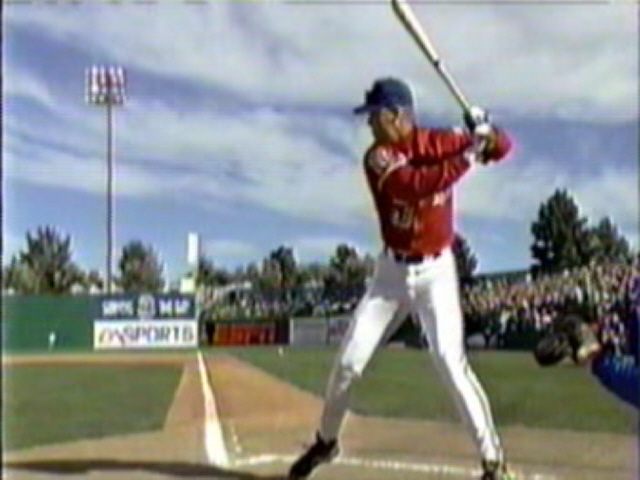 Chipper Jones at Toe Touch
After you shift your weight forward, you should land on your toe.
Touch the toe or inside ball of foot, not the heel. Why? Your hips tend to open up if you use your heel.
Back elbow is up. Why up? (Note that you don't begin your stance with it up, rather, you move it back as you stride forward)
Hips are closed, not open.
Front shoulder MUST be down, back shoulder up
Cues to use:
Push your torso forward,
stride for every pitch
, stride when the pitcher releases the ball, easy stride, coil back as you go forward, elbow up at touch, hips even
Bad cues:
elbow down
, step forward
3. The Swing Forward Phase
When the ball is halfway (30 feet, or 2/10 of a second) and you determine the ball is going to end up in the strike zone, start driving to your hip.
This drive/rotation should normally begin at the moment of toe touch, however, you can wait briefly if you were fooled by an offspeed pitch.
Swing to Hip Phase (the secret to hitting)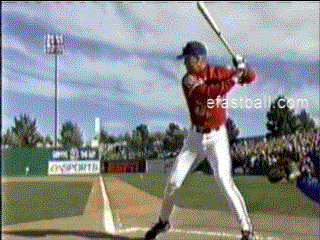 Chipper Jones Swing to Hip
The drive to the hip is the most important and least understood phase of the swing.
Initiate the swing by simultaneously:
Driving your back shoulder and back elbow down as a unit as you rotate/tilt
Immediately opening your front hip ahead of your front shoulder (to increase batspeed by getting your front hip on the side of your axis - otherwise you have a slower 'gate' swing)
Then:
Your back hip should move toward the ball even with your back shoulder (this is not a typo, see any pictures of MLB players at contact)
Rotate your hips using your front foot and torso as the axis (the front hip - only - must open)
Don't move your hands away from your shoulder (they should not go back, and should not move toward the ball - yet)
Cues to use:
drive down, clear your (front) hip, tilt, hands back
Destructive cues:
hands to the ball, don't drop your shoulder,
squish the bug
, swing down on the ball
Hitting faults:
Hands to the ball/ swing down on the ball
The most common problems in this phase, destructive cues like "hands to the ball", "swing down on the ball", and a basic misunderstanding of the MLB swing, cause the swing path to angle down instead of angle up at contact.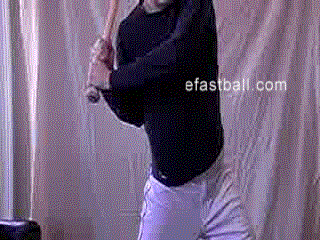 Chicken Wing Fault
Chicken winging
Another common problem in this phase is what I call "chicken winging", where you drop your back elbow without also driving your back shoulder down.
Both hips open, and no hips open
Another point of confusion in this phase is following the "open your hips" cue/myth literally. Only the front hip should open (ahead of the front shoulder) - not the back hip. If you open the back hip, you can't hit anything outside or offspeed. The other problem is not opening your front hip ahead of your front shoulder. If you don't, you will have a slower 'gate swing' rotating on your front hip.
Secret Drills:
You don't need any DVDs, or instructors, or paid lessons. Just practice this Swing to Hip Phase in the mirror. This should be the first thing you learn in T-Ball.
Hip to Contact Phase - Rotate/ Pendulum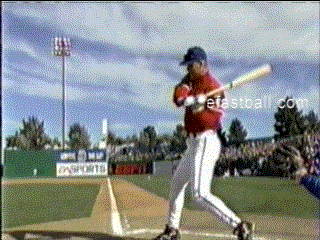 Chipper Jones Hip to Contact
As your elbow hits your hip:
Keep your back elbow at your hip as you extend your forearm
Only then do you begin to throw your hands forward away from your shoulder
Pull back on the knob with your front or lead hand to allow the bat head to swing in front of your hands to contact
Cues to use:
rotate, back elbow tight
Destructive cues:
hit the top of the ball
, level swing, swing down
During this phase, the bat head should angle down, then level off around the center of your body, then begin an upward arc toward the ball in the same plane as the pitched ball.
If you use the proper uppercut swing path and hit the ball "square", you should return it to the height of the pitcher's hand at ball release.
At Ball Contact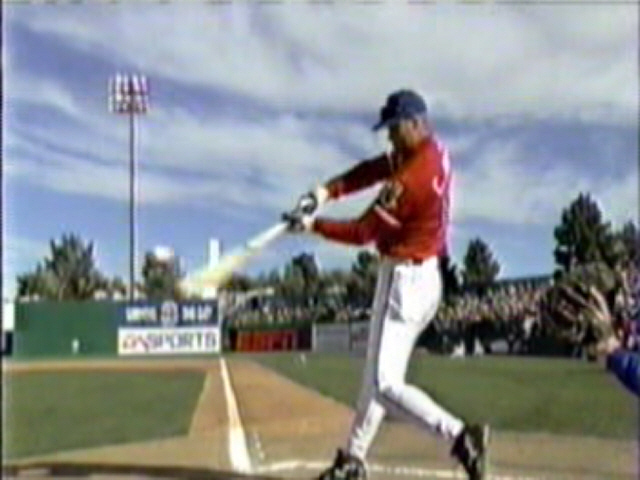 Chipper Jones at Contact
Your hips should be facing the pitcher
Your back elbow should be L-shaped and close to your body
The bat head must be just in front of, or at least even with, your hands - preferably near the ball of your front foot (or the back of your front foot for low and outside pitches)
Notice, your shoulders should not be even - they are (gasp!) "dipped" - the back shoulder is now down
Your back hand should be palm up and the wrists are not rolled over
Your back foot should be on the toe, not on the ball of the foot (called "bug squishing")
After Ball Contact
Who cares?
Major League Hitters at Ball Contact
Notice the following at impact with ball:
Back elbow is at the hip and bent (arms are not "extended")
Back shoulder has dropped significantly (they are not "level")
Weight has shifted to front leg (not lunging though - the head is even with the back knee)
Wrists are not rolled over
They are not swinging "down" on the ball to get the ball to go up. The head of the bat is going up when it hits the ball.
Back foot - the back toe is all that's touching
Albert Pujols

Alfanso Soriano

A-Rod

Brad Ausmus

Derek Jeter

Jose Bautista

Magglio Ordonez

Shawn Green

Vlad Guerrero

Sammy Sosa

HR #599
Myths Busted
Extend your arms to contact (unless you fooled by an offspeed pitch)
Hands to the ball, use your hands, knob to the ball
Don't drop your shoulder
Roll your wrists, line up your door knocking knuckles
Squish the bug
Hit the top of the ball to get it to go up (who came up with this one?)
Should I Teach Rotational Hitting to Kids?
Some youth coaches say you can't teach rotational hitting to kids, because they aren't strong enough, or they aren't coordinated enough, or the techniques are too advanced, etc.
You will notice that I didn't mention power, or strength, or coordination, during any of the steps of a rotational swing.
Rotational hitting is simply a series of techniques. These techniques produce the fastest bat speed possible using the available power and strength of the player regardless of age. The techniques I have outlined are very simple and are not too difficult for anyone to grasp. The tilt action may be the most difficult technique for a kid, but the benefits are enormous.
You may want to use the "cues to use" above as a way to simplify the swing. Of course, you may phase in the steps over time.