Aroldis Chapman Did Not Break His Fastest Pitch Speed Record Last Night
The scoreboard radar showed 106 mph, but it was really 'just' 102.4 mph
Editors published 4/19/2011 10:00:00 AM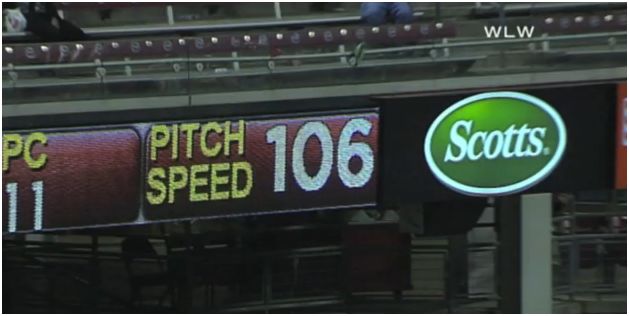 In the Reds vs. Pirates game last night, it appeared that Aroldis Chapman broke his previous pitching speed record of 105.1 mph, with a reading of 106 mph from the scoreboard radar.




Also, the TV broadcast radar read 105 mph.

However, MLB's Pitch F/X data showed the pitch to be 'only' 102.4 mph.

Who knew that a stadium reading could be off by 3.6 mph!

He threw 9 pitches of 100.0 mph or more in the 9th inning.

His actual pitch speeds last night:



Batter 1: 99.8, 100.1, 97.4, 98.9, 100.8, 98.8, 101.2, 100.9 mph (Kevin Correia grounds out)

Batter 2: 101.3, 91.5, 102.4, 101.8, 100.7 mph (Andrew McCutchen strikes out swinging)

Batter 3: 100.6 mph (Jose Tabata grounds out)


So, Chapman's record of 105.1 mph still stands, but stay tuned.

Deadspin had a little fun and sped up the video by 3.92156862745 percent to see what the pitch would have looked like at 106 mph.

YouTube user dmlanimations captured the pitch and the stadium reading on film.



Many people are reporting on the '106 mph pitch'


Be the first to comment.